SORECO presents its new visual identity and its new website
SORECO is making a step in its evolution by changing its visual identity and launching a new website in order to better reflect its international vision.
Partner of French and international companies for more than 20 years, SORECO is the leading firm in services to French and foreign companies in Spain, Italy and Portugal.
Both the logo and website have been redesigned to reflect SORECO's international vision and to highlight a 20-years-experience.
This new identity matches the evolution of the firm and the long-term strategy of SORECO. It is expressed by a new, modern and impactful branding.
« Our logo reflects the major evolutions of our firm, the year we celebrate our 20 anniversary. I am proud to share today a modern visual identity that embodies our ambitions and expertise. Our new identity shows the reality of an agile and digital firm, which accompanies its clients in their development with precision and reliability. » Stéphane DERUY, CEO and founder of SORECO.
A new visual identity with a new logo
On this occasion, SORECO adopts a new visual identity illustrated by a new logo. Deliberately colourful and bright, the logo combines colour codes expressing the future and experience, while translating the solidity and knowledge of a team of experts.
For the construction of its identity, SORECO decided to take some inspiration from the Greek alphabet, and in particular from the lowercase letter "σ" of the letter Sigma "Σ", which means sum in mathematics. An ancestor of the letter S, it is a symbol of continuity, but also of precision and experience.
The pictogram has been worked on to make this "σ" unique and attributive. It becomes a dynamic signature that can be used to identify the brand on its own.
This logo is complemented by a baseline that simply and effectively evokes SORECO's services.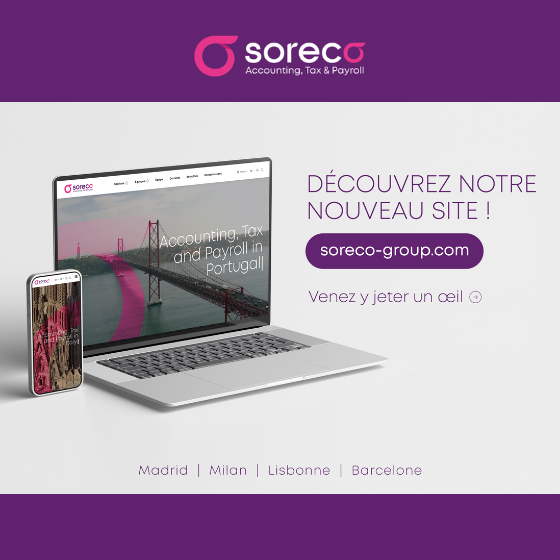 A modern and functional website
SORECO is also launching a new website, in response to its international objectives. Available in 6 languages (French, English, German, Spanish, Portuguese and Italian), the site has been designed to offer an optimal user experience.
These changes are the first step in a global rebranding plan for SORECO.
Multidisciplinary firm of chartered accountants accountants and lawyers
SORECO is a firm of French accountants and lawyers based in Madrid, Milan, Lisbon and Barcelona. Founded in 2002 on the initiative of Stéphane DERUY, the firm has always has always been specialised in advising French and foreign companies investing in Spain, Italy and Portugal.
SORECO is specialised in the creation of companies in Spain, Italy and Portugal as well as in the accounting, tax, social and legal follow-up of subsidiaries of French companies. The services offered by SORECO are accounting, tax, legal, HR, audit and consulting and outsourcing.